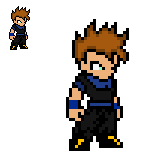 Aaron
is an OC in DogDays124's EEnE Z spinoff,
Ed, Edd n Eddy Z Fighting Dreamers
. He is fifteen years old, and he is the dim-witted muscle-head of the group. Though on special occasions, he has his smart moments. Aaron can be very nice and will do anything for the sake of the group.
Appearance
Edit
Aaron has brown spiky hair. He wears a black and blue gi with black boots. He looks similar to Future SSJ Gohan.